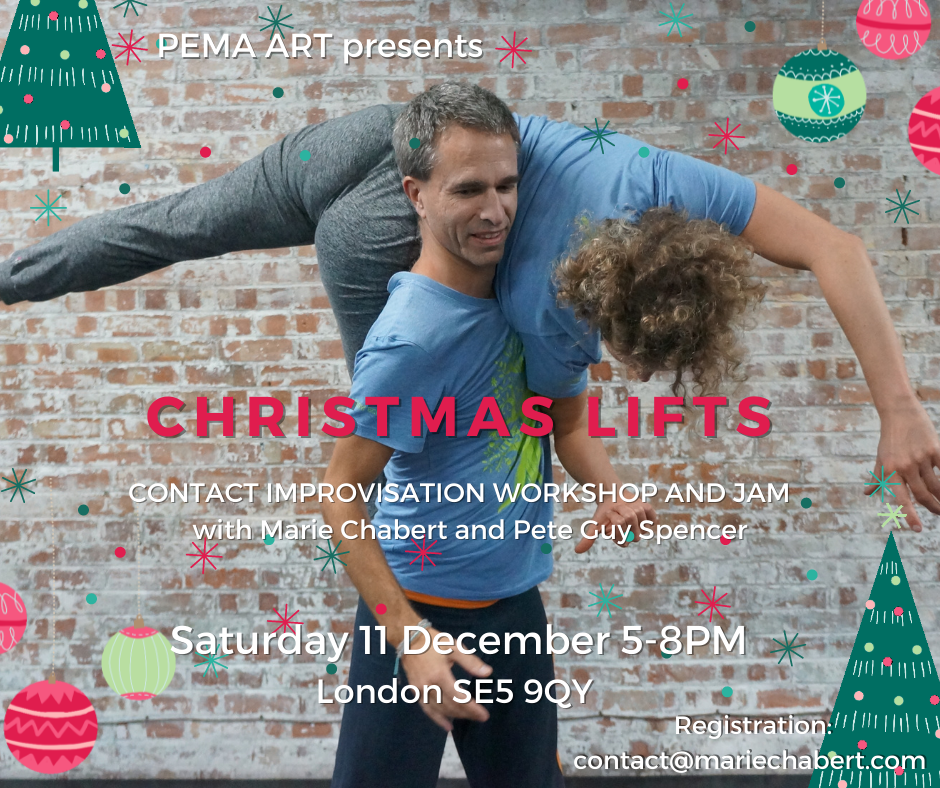 CHRISTMAS LIFTS – CI workshop & jam- 11Dec
How do we handle our weight in lift situations? And: Does the lift really always go up?
In our workshop we want to share and collect experiences from the basis of mindful weight giving via the "high" art of delicious body surfing up to acrobatic shoulder lifts. What helps over and under dancer to experience lifts effortlessly and joyfully (e. g. reaching, momentum)? We will teach techniques and give space to also consciously and enjoyably use unusual lift ways like "half lifts", "fake lifts" or "lifts going down" that might be connected with frustration or surprise in our everyday jam life.
Following the workshop there will be time to play with the material together at a jam.
Location:
Longfield Hall, 50 Knatchbull Road, London SE5 9QY
price range:
£18-25
registration:
[email protected]
Safety measures:
lateral flow test to be taken on the day of the workshop (on-site covid tests available)
Biography:
PeMa Art are both experienced dancers and facilitators of Contact Improvisation workshops:
Marie Chabert, London, UK, freelance dance artist (a. o. London Contemporary Dance School, California Institute of the Arts, Royal Opera House, "Dance as a Tool Against Violence" Burkina Faso, "Art Omi Residency" New York), CI and yoga teacher, sports massage therapist
Pete Guy Spencer, Radolfzell, Germany, poet and performance artist, CI dancer on land and in water since 2008 (student a. o. of Martin Keogh, Ray Chung, Nita Little, Scott Wells, Alicia Grayson, Vega Luukkonen, Ulli Wittemann, Daniel Werner); he also leads an inclusive dance group based on DanceAbility;
www.libefer.com
PeMa Art's shared path started on the dance floor in 2019. Since then they co-create multidisciplinary art performances like "Phe-NoumeNow" (with four dancers and a musician, premiered 3. 12. 2019 at Trinity Laban Conservatoire, London) or "UnDone" (with paintings and video installation) and co-teach CI workshops; facebook: PeMa Art