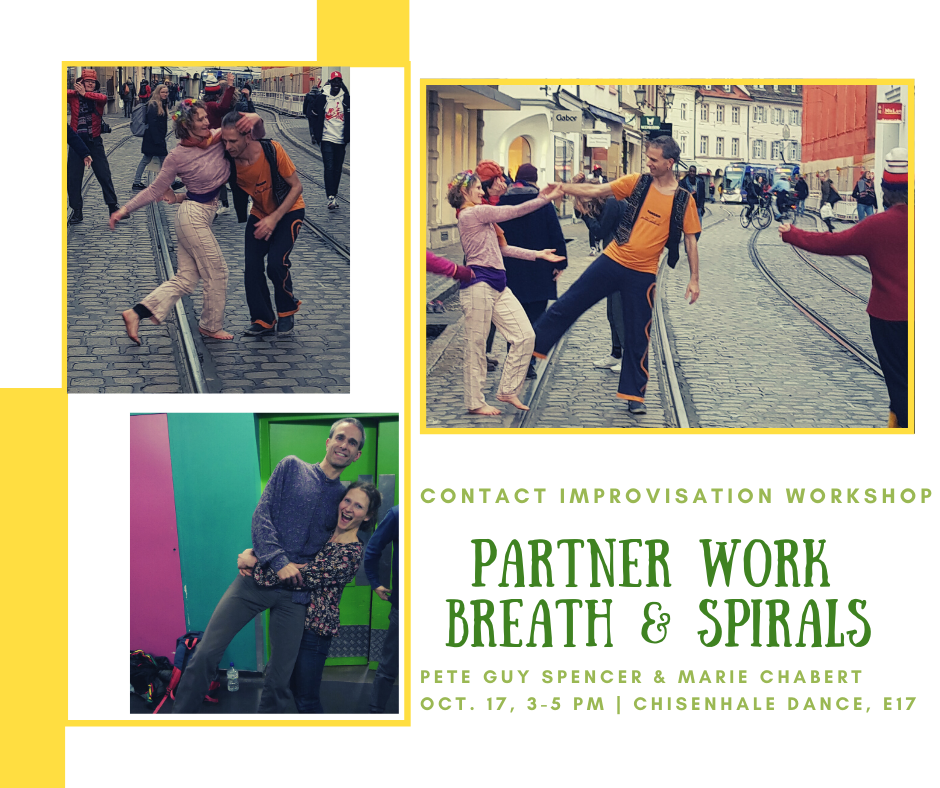 Partner work, breath and spirals
Hello dear movers!
We would love to have your physical presence on October 17th to dance, breath and explore together again in the 3 dimensional space.
This workshop is led by Pete Guy Spencer (DE) and Marie Chabert (UK/FR).
We will start warming up by attending to our breath in relationship to our sense of weight. In the act of giving and receiving weight, 'breathing with' and listening will encourage a sense of tuning in and synchronicity between partners, supporting ease of movement and momentum.
We will then move on to expand the breath from a core-distal perspective, reaching out in space from the center in all directions, leading us to spiral into space, in and out of contact.
We will embody few simple patterns and lifts to explore with our fixed partner.
Bio
Pete and Marie are both independent artists who met while dancing contact improvisation. Since then, they have been dancing life, as intimate partners, in contact jams and festivals. Their collaborative process is still fresh and being constructed in time, love and space.
Pete is a poet, a performance artist, writer and CI dancer based in Southern Germany. He has experience leading theatre workshops and danceability classes for young people.
Marie is a dance artist, performer and choreographer, yoga teacher and massage therapist based in London. She regularly teaches contact improvisation and is the founder member of the Ci collective TripCI.
Together they create multidisciplinary art and have started to teach CI workshops in South Germany.
Partner work and regulations
We will work with fixed partners.
You are recommended to come with a partner you already share personal space with. If not, you will have the option to either work with a fixed partner with some safety precautions (such as washing hands and wearing a mask), or approach the material as a soloist.
The space and safety
CDS is equipped with hand sanitizing stations and is limiting the amount of participants accordingly to keep social distancing in place. A full list of actions taken to prevent any viral spread can be read here.
Date and location
Chisenhale Dance Space – Oct 17 / 3-5pm
Price and level
Mixed levels- £20
Registration by Oct 16 at 6pm
To register send an email to [email protected]
Please note the space is limited to 8 participants! The first 8 to register will be given priority.
We keep a close eye on regulation updates and guidelines and will update you in the case anything changes.
Invite your friends on Facebook here!
Pete and Marie – PeMa Art