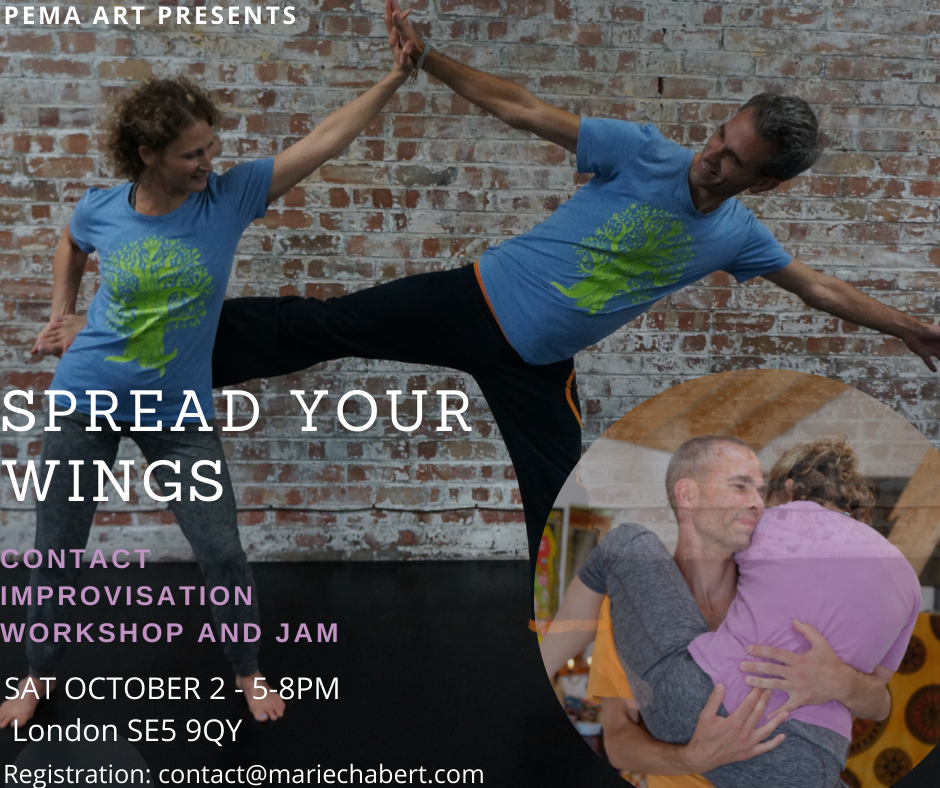 Spread your wings- Contact Improvisation Workshop & Jam
PeMa Art invites you to their next CI workshop and Jam.
'Spread Your Wings' is about the joy of effortlessness in dance, whether in solo or with a partner, simply sharing weight in lower levels or in acrobatic lifts.
Starting from the myofascial lines we will rise the awareness of being, moving, reaching out with lightness. We will teach easy pathways from lying to standing and flying.
Different exercises will be adapted to the levels and wishes of the participants. After the workshop there will be a jam to explore and integrate the material.
Practicalities
Location: Longfield Hall, 50 Knatchbull Road, London, SE5 9QY
price range: £18-25
registration:
[email protected]
Safety measures: lateral flow test to be taken on the day of the workshop
on-site covid tests available
All levels
Biography:
PeMa Art's shared path started on the dance floor in 2019. Since then they co-create multidisciplinary art performances like "Phe-NoumeNow" (with four dancers and a musician, premiered 3. 12. 2019 at Trinity Laban Conservatoire, London) or "UnDone" (with paintings and video installation) and co-teach CI workshops; facebook: PeMa Art
PeMa Art are both experienced dancers and facilitators of Contact Improvisation workshops:
Pete Guy Spencer, Radolfzell Germany, poet and performance artist, CI dancer on land and in water since 2008 (student a. o. of Martin Keogh, Ray Chung, Nita Little, Scott Wells, Alicia Grayson, Vega Luukkonen, Ulli Wittemann, Daniel Werner); he also leads an inclusive dance group based on DanceAbility;
www.libefer.com
Marie Chabert, London UK, freelance dance artist (a. o. London Contemporary Dance School, California Institute of the Arts, Royal Opera House, "Dance as a Tool Against Violence" Burkina Faso, "Art Omi Residency" New York), CI and yoga teacher, sports massage therapist;
www.mariechabert.com