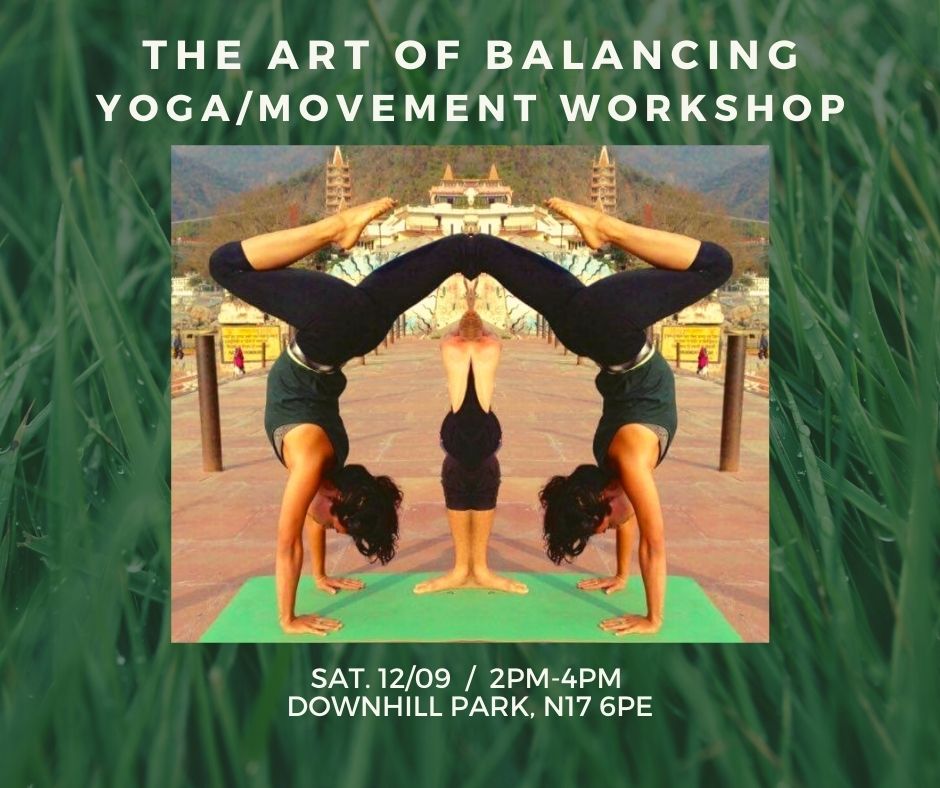 The art of balancing Yoga-movement workshop
The workshop is now taking place on Saturday 12th September, 2-4pm. In case of bad weather we will relocate in a studio space nearby.
Do you want to improve your balance, be fearless and get more confident at weight bearing on 1 leg, 2 arms, 3 knees, 4 hands? Balancing can indeed be taken lightly and playfully with the right tools and skills to launch yourself into your pose.
In this outdoor workshop we explore yoga asana on the grass and on the mat, using our natural environment to support our practice.
I will give you some practical tools and tips to achieve and refine our equilibrium. 
We will start with some movement and somatic exploration relating to finding a strong sense of support, elevation and shifting the body weight in an effortless way. Alongside this physical and anatomical exploration, the participants are invited to dig deeper into the somatic and experiential level of what it is to balance.
Playful exploration games will be followed by an asana lab and a sequencing flow, involving simple to more complex balancing asanas on 1 leg, arms, pelvis and belly. 
Bio:
Marie is a freelance dance artist, yoga teacher and massage therapist.
Her passion for yoga has been influenced by many great teachers in India, London and internationally and by various styles (vinyasa, hatha, Iyengar, yin, ashtanga, quantum, kundalini, acroyoga).
Teaching has been a big part of her life and inspiration for the last 12 years. She runs various dance and yoga workshops, classes for pro and amateurs, in studios, dance schools and choreographic centres, gyms, corporate and private environment in London and internationally.
Level:
Open level. Not recommended for complete beginners.
What you need to bring:
– a yoga mat
– comfortable clothes that can get dirty
– a bottle of water to keep hydrated
– a face mask
– weather protection: suncream, hat…
Price:
£20 per person 
Concession possible on request
How to register:
– registration ends on September 10th at 12am
– fill in the line PAR-Questionnaire: https://docs.google.com/forms/d/e/1FAIpQLSf85_T103AzK8Qoikrw5Yel9arc2Ft590RLStx6dZIGym9jeQ/viewform?usp=sf_link